David Sugarman
As seen in Newsweek, USA Today and The Sunday Times !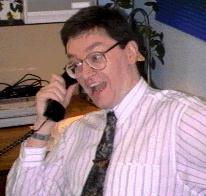 David lives near the Thames at Pangbourne, Berkshire UK. He's the handsome devil on the right.
"I've been programming computers since I was 13. That's 25 years ago - it's sad but true. I've been senior PC manager at several large companies but now I'm the M.D. of my own company Super Assist Ltd.
In addition to having my own WWW page, I also run several conferences on Cix. These include sound samples and The Dead Pool competition. Additionally, I am making available .WAV files and Royalty Free Photos via WWW.
Let me also introduce you to our rodent control operatives."
David's been a member of Cix for 8 years now but has decided it's time to net surf.
---
Revised 7th September 97